RECEIVE SIDE BY SIDE CUSTOMIZED LTC QUOTES
Compare Policies from the Top 10 Blue Chip Companies

Review Each Company's Long-Term Dependability

Get Everything Delivered to you via FedEx in an Organized Custom Binder
Compare A+ and A++ Rated Companies
You want a company that will be around when you need them. We help you find the highest-rated and best-performing insurers, with Pricing and Options.
You want options, and we provide them. We shop the market of major, highly-rated insurers to uncover the best rate possible.
There are hidden discounts available to many beyond just health discounts. We can help you find things like Loyalty discounts which can save you 5% on average.
Join Over 10,000 Americans Who've Used Our Platform to Find The Best Long Term Care Insurance Plan
For most Americans, choosing the best long term care insurance plan can be a complicated process. You have to think about premium prices, policy provisions, and even the long term dependability of the company that you are working with. Furthermore, factors such as your age, health, and care preferences also count. There's no one-size-fits-all policy and you'll need to carefully wade through all the provisions to make sure you are getting a sound and reliable plan.
Because LTCBOOK brings the competition to you, we remove the hassle out of shopping for the best LTC policy. Our platform has been a gamechanger for over 10,000 LTC insurance shoppers across the nation.
#LONGTERMCARE DEBATE
The Long Term Care Debate
The possibility of needing nursing care – and not being able to pay for it – is one of the worst fear Americans have about aging
The prevalence of cognitive impairment among the aging population shot up over the last one decade, while prevalence of physical impairment in the same group remained the same
Federal data suggests that the lifetime probability of becoming disabled in at least 2 activities of daily living or of being cognitively impaired is 68% for Americans aged 65 and older
Here's the problem – there's no comprehensive national policy to take care of the money gobbler that is long term care
By 2050, the number of Americans in need of paid long term care services in any facility (at home, residential care, skilled nursing centers, etc.) will likely double from the 13 million users recorded in 2000, to about 27 million people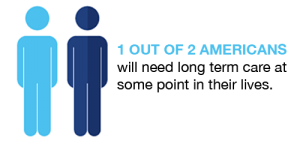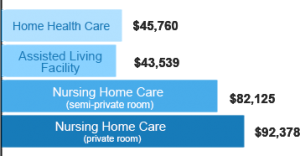 OPTIONS
Paying for Long Term Care - Your Options
When it comes to financing long term care expenses, what are your options?

Insurance
Private LTC insurance covers only about 7.4 million people. That's according to the National Association of Insurance Commissioners. Experts recommend buying long term care insurance at age 50 or 60, but it can be a lot cheaper if you purchase when younger (during your 40's). You can use a service that helps you compare long term care insurance plans to find the best coverage for you.

Medicare
Many people tend to think that Medicare will foot their long term care expenses, but it only provides a very limited coverage. Medicare will help pay for recovery after a 3-day hospital stay. It covers the entire cost over the first 20 days, after which you are required to pay a coinsurance fee per day. After the first 100 days, Medicare will stop assisting.

Out of Pocket
If you have the resources, you can set aside a section of your savings to take care of long term care expenses. However, given recent data on the cost of care in various facilities, it's clear that only the most affluent of families can afford to pay for long term care out of pocket.

Medicaid
When all the other options for offsetting long term care expenses have been exhausted, the government's Medicaid will help pay up. Medicaid continues to pay for long term care needs but only after the person has depleted almost all their financial resources. What's more, not all health facilities accept Medicaid patients (and only traditional nursing homes are covered).

Life + LTC Rider
An increasingly preferred way of paying for long term care insurance entails adding a rider to a life insurance policy. This actually addresses the concerns of individuals who are worried about buying an LTC insurance policy and never getting to use it. With a life + LTC rider, your policy will be converted into a death benefit (to be passed to your beneficiaries) if you never end up needing LTC.

Annuity Gains
Taxable annuity gains can be turned into tax-free long term care benefits. Long term care annuities basically help you leverage your assets into 3X, 4X, or even 5X of your principal investment amount (which should cater for long term care if you ever need it). For people who plan to use their assets to offset possible long term care costs, this is a great strategy to protect their retirement income stream.
LTC INSURANCE
Is Long Term Care Insurance worth the expense?

Costs continue to soar.
Long term care expenses (whether at a nursing home, assisted living facility, etc) continue to go up at an unprecedented rate. The only way out of this quagmire is to make sure that you avoid these expenses. Insurance gives you the surety and peace of mind you need. If you ever require long term care, then you know that you'll receive quality care – paid for by your insurer.

Better safe than sorry.
 You're better safe than sorry. Think of LTC insurance like you would auto insurance. You never know what could happen when you get behind the wheel, so auto insurance gives you the peace of mind. Long Term Care insurance gets you covered if you ever need long term care services (which is more likely today than ever before).

Many people already use it.
As long term care expenses continue to shoot up, and Americans continue to get worried about footing these bills, long term care insurance is becoming increasingly popular as a preferred option. American families do not want to lose their entire savings paying for their own (or other family members') long term care.